Posted by admin
on February 20th, 2014 filed in
News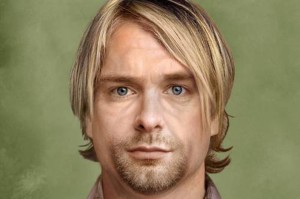 Today, February 20, 2014, would have been Kurt Cobain's 47th birthday. This day also marks the first annual "Kurt Cobain Day" that will be celebrated in his hometown of Aberdeen, Washington.
Although Kurt mockingly described Aberdeen as "Twin Peaks without the excitement," and there were years of discomfort over Cobain's admitted drug use, the city is now embracing Kurt Cobain and acknowledging Nirvana's accomplishments.
The Aberdeen Museum of History will host the days celebrations and they will add a statue by Randi Hubbard to the museum's existing Kurt Cobain and Nirvana exhibit.
The photo above is Sachs and Phojoe's approximation of what Kurt Cobain would look like today PHOTO VIA SACHS/PHOJOE



We have received an overwhelming number of requests to expand this project to include community forums. If you support this development please donate any amount using the link above.